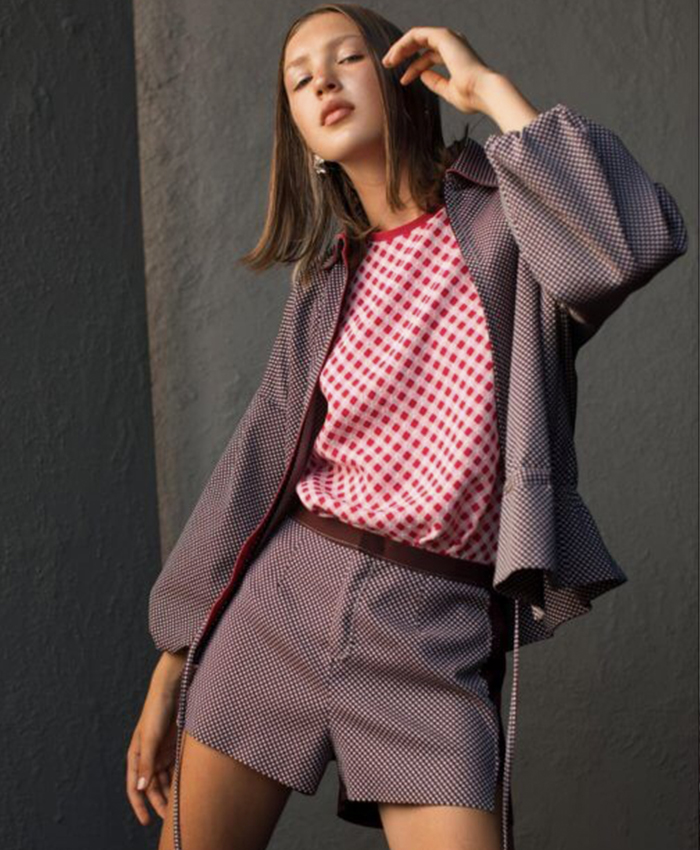 Spring 2019
It's a red so powerful that it dears contrast itself. Matte over glossy, gingham over monochrome. The nuances are multiplied by textures, offering bright shades ranging from poppy to cardinal, passing through ruby and the berries. This red is worn like a signal testifying to the confidence of the one who wears it. It has the authority of a color that has marked history with its symbolism, and the intensity of the impulses of passion associated to it.
In honor of Spring arriving or in affront to the cold hanging on, the red takes over the entirety of the wardrobe. In accent pieces or in monochrome sets, it fully assumes its warmth and luminosity. These are contagious and spread to your moods. When your clothes shine so bright, how can you not glow just as much?
To give character to the formal, you must sometimes see life in red.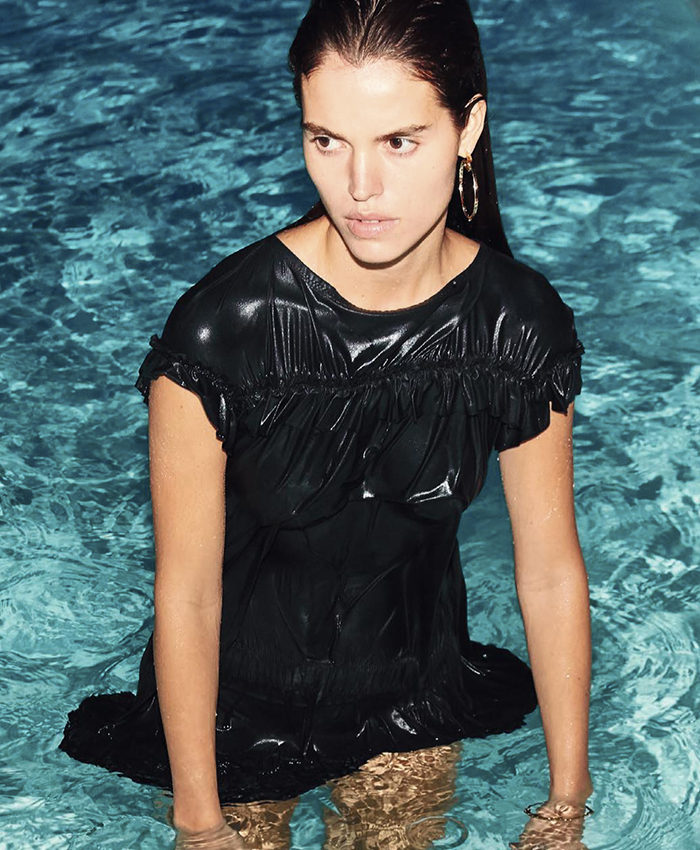 Capsule Collection
It's a garment in bold. A new typography free-handedly drawn in space. Both effective and artistic, its lines compose a message that invites audacity. Black ink on a white page. A cartesian poetry puffs the sleeves and makes the waists and collars pitch. The oversized volumes gives impetus to the silhouettes and character to the story.
Each piece is a signature: dresses with chiaroscuro asymmetries, a truncated jacket with contrasting panels, coats with flared shoulders. The minimalist, yet spectacular, nature of the outfits suggests that they could be worn for work just as much as they could be worn for a night out. You don't need rhinestones to shine. Here, the brilliance is in the meeting of hues and materials. There is saturation of light.
Everything is of a disconcerting lightness. And yet, the impressing is indelible.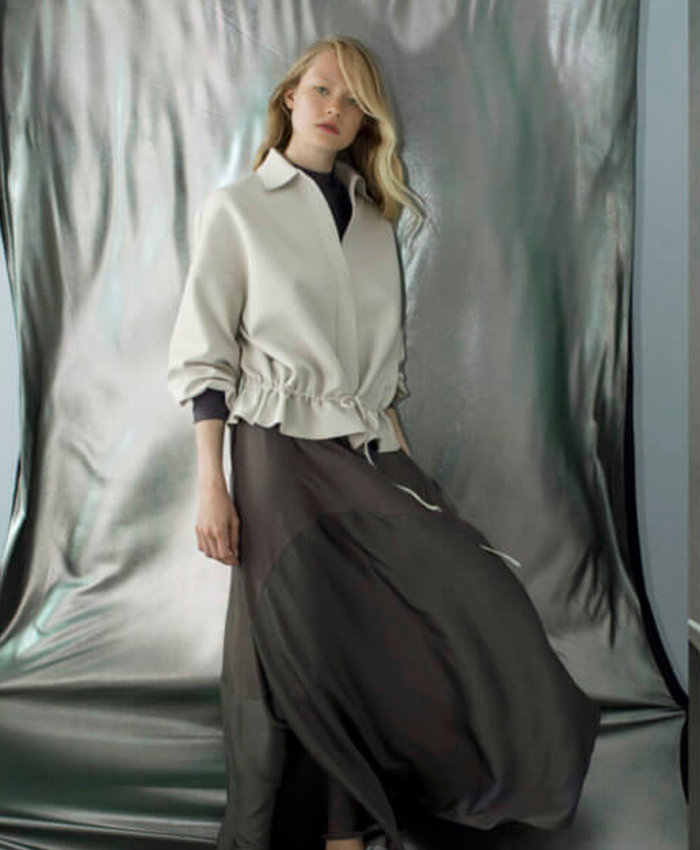 Cruise 2019
It's an event dress that provokes the occasion to celebrate, rather than waiting for it. The desire to slip into it is enough to justify the party. It's a question of looks as much as comfort, because elegance is, above all, a sensation: a state of mind and confidence that translates into style. Distinguished silhouette, ludic asymmetries, technical fabrics. The night will have rhythm and character.
This idea of an effortless chic is epitomized by the "ready-to-wear couture" approach of Maison Marie Saint Pierre Spring 2019 collection. The freehand finish of certain pieces and the know-how mobilized creating drapes and unexpected volumes is a tribute to artisan work. At the meeting point of tact and technology, there is a new definition of luxury combining performance and refinement.
It is often the spontaneity of a party that makes it magical. It begins with a dress and continues late into the night.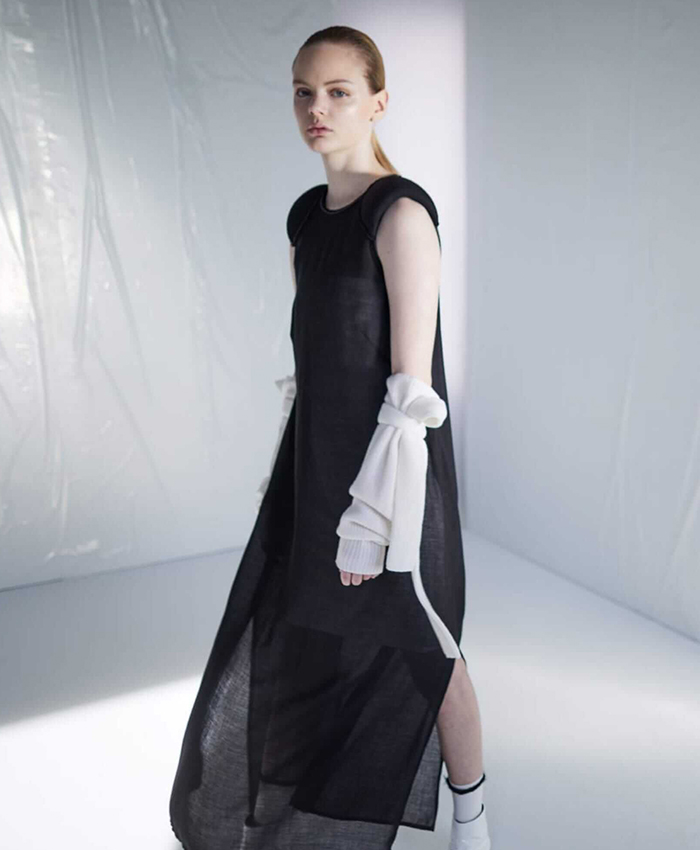 Atelier Winter 2018
It's a movement inspired the that of the waves. Asymmetrical gathers that overlap and are ready to surge. They splash with grace even the most minimalist clothes to better ruffle the ridges. They spread on the edge of the shoulder, the rounding of a collar and the bottom with a hemline. The effect is both refined and spectacular, like a feat of nature.
The materials multiply at the same rate as rows of frills. Honeycomb fabric, organza and scuba alternate in varying lengths. Each fabric has a unique character, a specific way to soar into space and to remain suspended. Their meeting gives relief to the painting, depth to the swell. Details are purposely exaggerated, suggesting a new balance.
There is no need for a pretext to wear it. The waves don't wait for a special occasion to dazzle. They are the ones to create the event.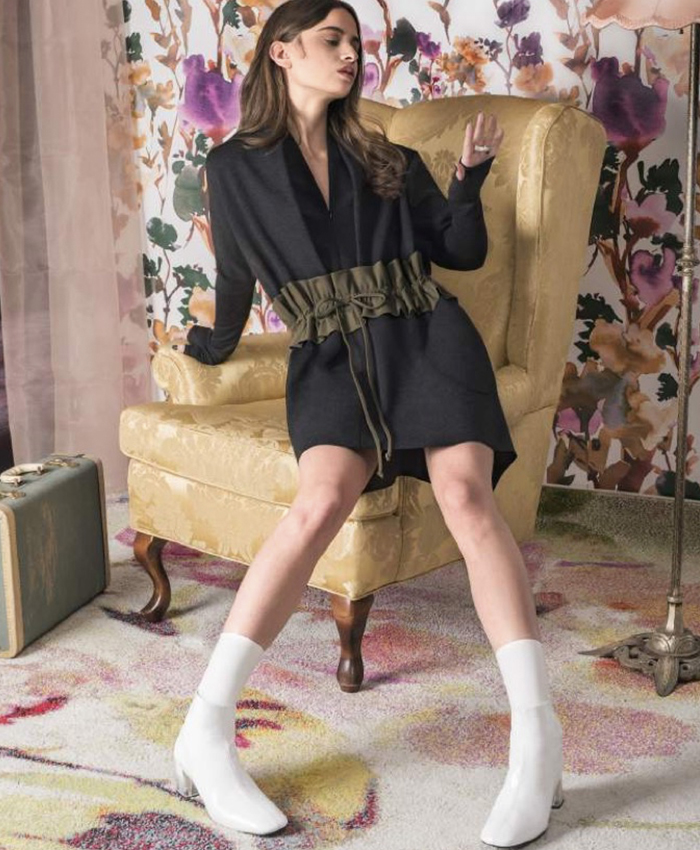 Autumn 18
The inspiration is a sea of sand with suspended waves. A desert with an immobile swell, molded by the wind. It rounds its back and then arches. Domed lines spread far out of sight in undisciplined waves. The show is filtered and yet spectacular. The contrast are but shadows and light. We want to wrap ourselves in the softness of the landscape, curl up in the warmth of its dunes and mirages.
The Maison Marie Saint Pierre Cruise 2019 collection is their echo. The result is a selection of pieces in a gentle beige, that is anything but neutral. Its richness evokes an exoticism of which postal cards have never truly been able to capture its colors. The blown sleeves of the dresses and jackets, their rounded angles and arched seems give grace to silhouettes. There is movement in the very idea of the garment. Thought of both for well-being and elegance, it is the ally of travel and scenery changes.
So we slip into it, whether it is to leave or to stay. In either case, we'll be elsewhere.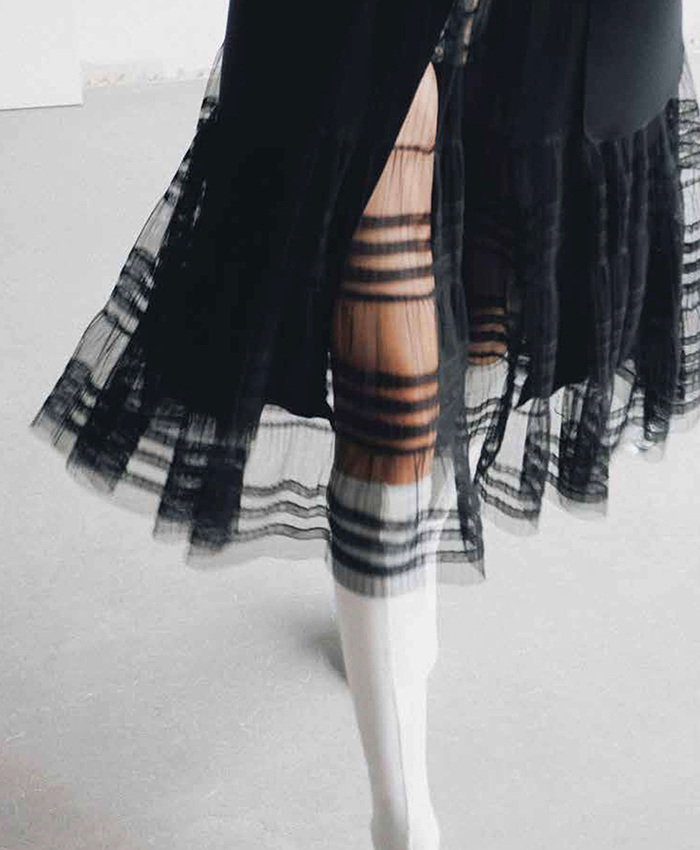 Atelier Summer 2018
It is a freeze-frame of a storm on the verge of bursting. The painting, with an overexposed white and a saturated red, captures the tension that agitates the clouds. Depending on perspectives, we either see them from afar, or we get lost in them. At first, they look imposing and elusive, but they invite you to dive into the heart of the storm and to translate its power into a unique print.
Cut in a rumbling sky: a jacket, a dress, a sweater. The lines are pure, letting the motif express itself with force. It's a panorama, a pixel or a collage. No need for accessories when the fabric speaks for itself. It recalls a trip, a flight over the clouds. It has the beauty and the lightness of the world, seen from above. We wrap ourselves with it to feel as if we're floating.
All the elements are in place to create a perfect storm. The show can commence.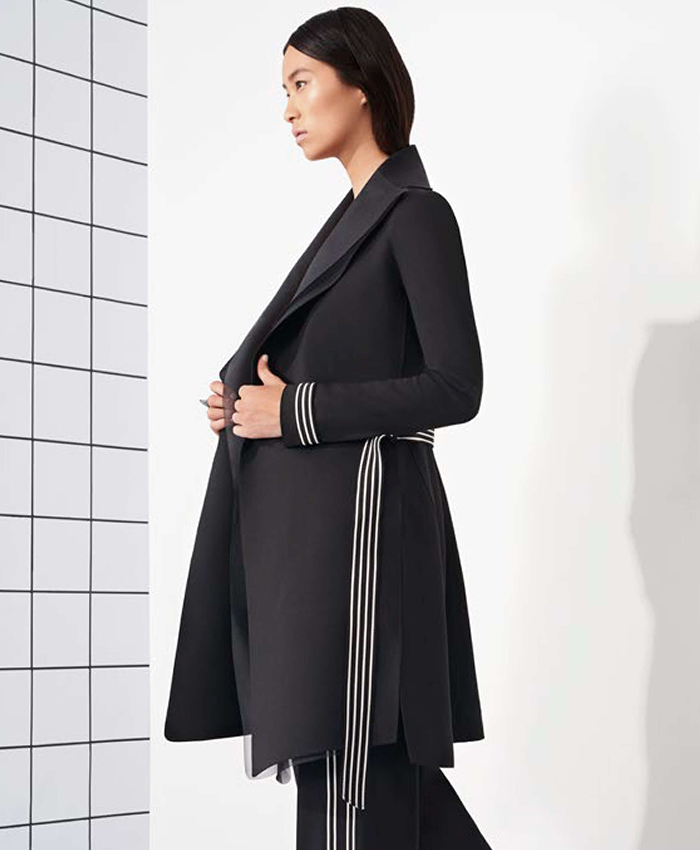 Spring 2018
It's a dress of ink and shadows, with blurred lines left raw. A delicate chrysalis accumulating the transparencies until the light gets caught in its nets. It absorbs or sieves it, but it always controls it. It's an illusion game, which gives relief to elegance.
Responding to a need for lightness, the trend is diaphanous. Depending on perspective, it either reveals or veils the skin. It's the proper of tulle and organza to deceive the eyes. Elusive, they maintain the mystery. This season, Marie Saint Pierre drapes, overlays or wrinkles them to make flowers. The result is a fragile and yet strong beauty.
There lies the power of suggestion.
Cruise 18
Swirls of organza frozen in movement. A veiled flower with tapered petals. The precious character of things isn't in their opulence but in their lightness. Almost intangible, these skillfully unfinished ornaments praise a spontaneous romanticism, a ruffled femininity.
These are half-jewels half-sculpture insets. A bas-relief of fabric applied to the dress to create a signature outfit. The fabrics are layered to create an alloy of textures. The opaque flirts with transparency. Technicality supports the fragility. The effect is both sophisticated and organic, evoking a natural elegance, a raw charm.
To distinguishing oneself is a subtle art that must be practiced without effort. It only takes one detail to make a mark.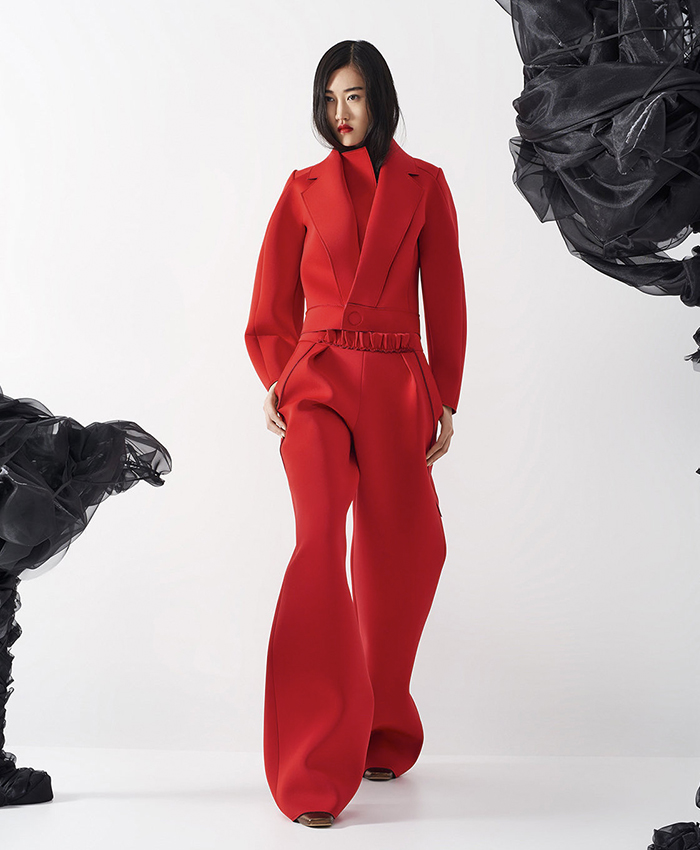 Lookbook Atelier
It's a color of asserted romanticism that evokes someplace far away. Not in terms of a specific place, but more in the feelings that accompanies this change of scenery : this solace tied to travel, the serenity that comes along once you var go of your bearings. For some, the teint recalls a perfume, a flavor, or the last few sun rays that set on an isolated landscape. It is raspberry, sherbet, rosé.
If this nuance is both staunch and refreshing that suggests vacation, it also has its place daily. In a monochrome version, from head to toe or in contrasting blocks with a chantilly white, fusian black or storm grey. It depicts the light headedness of the one who wears it, all while giving character to the formal. Allure and well being.
So we get wrapped up in it to better dream of the next departure.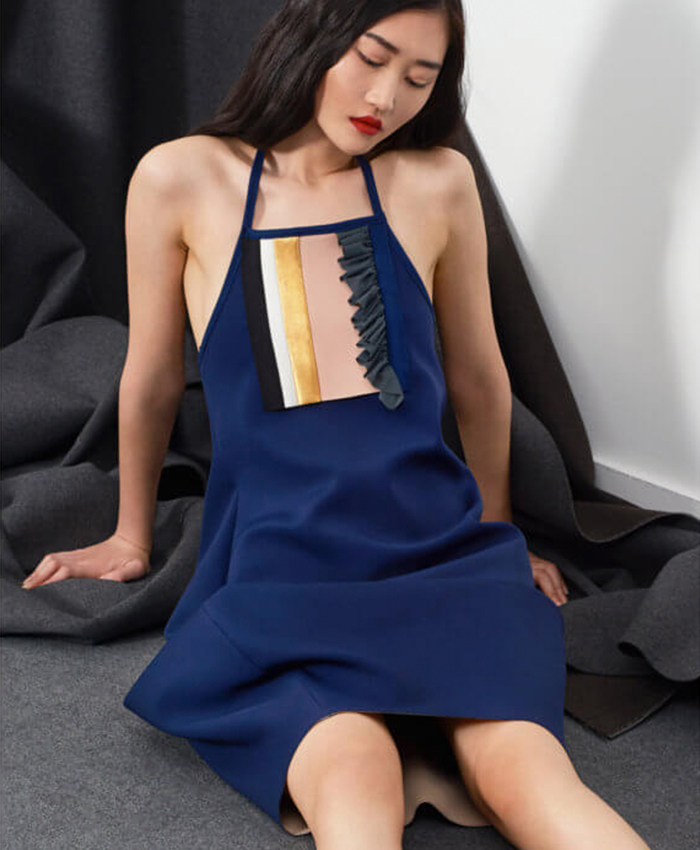 Fall 2017 Lookbook
Maison Marie Saint Pierre and SHAN unite to unveil a first capsule collection of luxury techno-poolwear. Created to prolong moments of relaxation, this seaside capsule offers styles to lounge poolside. The collection comprises 35 interchangeable pieces balancing luxury  and technical elements, presenting a hybrid vision of ready-to-wear and swimwear. Designed and produced in Quebec, the collection will be available at both brands' point of sales in Canada and internationally as from this fall.
This association stems from a coup de coeur between both houses, a natural alchemy between Shan founder, Chantal Lévesque, and designer Marie Saint Pierre. Both are at the head of institutions in the fashion industry with a focus on high-quality fabrics with technical properties, a timeless aesthetic, audacity in its details and local craftsmanship. They choose to propel their vision on an international scale. The project was brought to life in close collaboration in order to create synergies between the innovative processes and complementary universes of both designers.
« I have always believed in sharing knowledge and the art of collaboration. I have known Marie for a long time and I have a lot of admiration for her work. This capsule embodies both the innovation and technicity of our two Houses. It will be manufactured in our workshops, in conformity to our highest standards. I know this association will become a timeless staple built on values of collaboration and craftmanship. » - Chantal Lévesque.
Each House's signature is clearly recognizable in the end result. It is a meeting between the science and high degree of technicality operated by SHAN, offset with Maison Marie Saint Pierre's both minimalist and spectacular signature. Key styles from the collection are adorned with jewels or with oversized ruffles to give a bikini or a kaftan an eveningwear look. Others, more minimal, offer refinement and elegance, effortlessly allying luxury and wellness.
"It is when we truly unite our houses that we can bring this complementarity to light. Each has its unique values that are alike on a number of scales - a meeting of savoir-faire – revealed through a new capsule collection opening up new markets. It is also a response to a new lifestyle, more and more focused on experience, all of which is anchored in quality and timelessness." – Marie Saint Pierre
Stay tuned!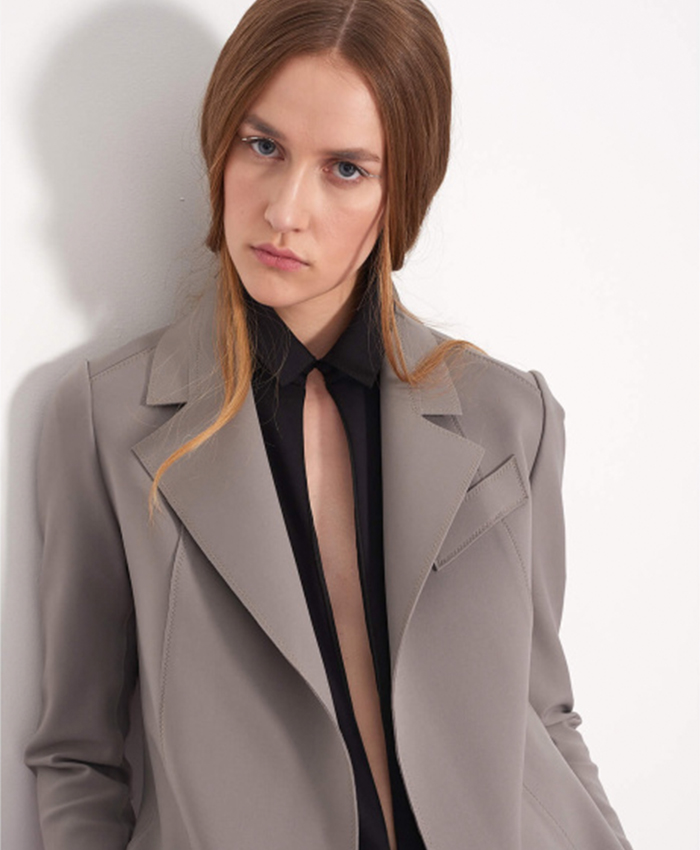 Cruise 2017
Some references, you will never stop dreaming about. Silhouettes that evoke distant stories, fabrics associated to royalty. We draw on their romanticism and their poetry to trace the dress of the contemporary princess. Their subtle British influences is a nod to the Victorian era. Protocol is no longer a constraint but, in fact, a great source of inspiration.
Skillfully exaggerated curls, basque godets that highlight the waist, caps with an oversized dome reminds us of the equestrian style. The allusion to the monarchy lies in the volumes as well as in the details. The technical and performant materials, however, recalls a story that is still ongoing. While the grace and sensibility of a fairytale remains, it is the strength that's taken over. It's what dictates the course of future events.
It's the reign of elegance. A title given by the dress.
Spring 2016
It's a velvet with a noble appearance, but a light spirit. From a somber black, and dazzling sheen, it evokes the aesthetic heritage of luxury. Its featherweight, however, taunts traditions, revealing the draperies' precious technicity. Even barely resting on one's hips or shoulder, the garment floats. As if suspended around the body, it traces unexpected volumes through space.
This techno velvet, both opaque and ethereal, hugs the body's silhouette in epic elegance. Inspired by the dramatic attitude of capes from another era combined with the science of today's fabrics. The myth without the nostalgia. The result renders a skirt, a jacket or a dress built for an occasion, slipped on without effort and worn with presence.
Mastering the art behind the classics is the starting point to reinventing them.